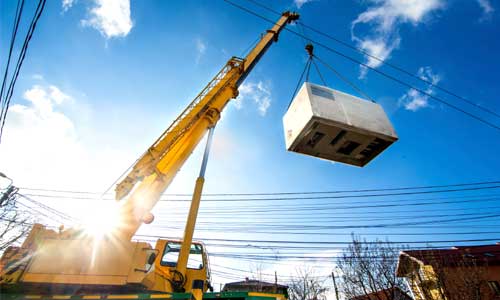 The Duration of the job and size & weight of the material to be lifted
You should know that different cranes have different specifications, functionalities and capabilities. Having a good understanding of what your project requires from a crane will help you select the equipment that will best meet your project demand and will quickly narrow down your options.
To understand the capabilities of crane you are planning to rent or purchase, it is recommended to contact your local Maxim crane specialist for any assistance.
They won't charge you for this service and help you size the crane best suited for your project. The Maxim rep will help you review different Load charts to understand the capabilities of cranes, its structural strengths and dimensions. Load charts will provide detail on vital features of the crane such as the Rate Capacity (gross weight of the crane to lift at a given radius) and boom length.
While choosing the right crane, the crane hook block and ball as well as all rigging/cable should be deducted from the gross capacity to arrive at the safest crane for a project.
Apart from this, the manufacturers charts will give you detailed and exact specification and dimensions of the machine. You can calculate the maximum lift within any given radius using these graphs. Getting the things right will help you avoid choosing a crane with little capacity and will ensure the selected crane fits your project requirements.