Jainex Group has always been a threat for its rivals in the field, because it has constantly tried to empower its crane hiring services with more and more machine models, hence diversifying and expanding its business territory at soaring rate. Jainex Group endeavors to make its clients happy by providing high-end and latest carriage machines along with skilled and licensed operators. This is the reason why it never compromises in choosing leading brands for crane hiring services.
Even when new makes and models of cranes are being regularly added to the fleet, older cranes have never been overlooked. Jainex Group owns a professionally trained team of mechanics specialized in cranes and similar machineries that look after the servicing and maintenance part of each crane in store when they are not in use, to ensure that they work at their level best whenever released to work site. Before providing any crane on rent, it is passed through the final test phase to check their functionality. Still if any breakdown is encountered after or during the period of crane hiring, it can be resolved by the company itself in response to a single call.
Jainex Group ventured into this business as one of the small scale crane hiring companies in India, which initially covered only a small region of North East India. However, today it is ruling over entire country by offering unmatchable crane hiring services to different business holders. Remarkably, in a very short span of time, the brand has marked its presence even in neighboring areas of India. Presently, Bhutan is also one of the prominent working areas of Jainex Group.
Other service branches of Jainex Group are automotive logistics and LPG carriers. With advance automotive logistics it has simplified the way heavy weight objects were moved from one place to another. We pride ourselves on providing logistic services that has earned us trust of many well-famed brand names, such as Maruti Suzuki India Ltd., Tata Motors Ltd. and General Motors.
Our LPG carrier services are exclusively designed and integrated with safety features for remote areas. The service can be availed from anywhere in India. At present we have more than over 50 advance models ODC transportation vehicles and increasing rapidly to feed the ever increasing service demand. With such a huge fleet of vehicles and carriage machines we are keen and always ready to serve your transportation needs. If any of our products can serve your purpose, please let us know by filling up a request form.
Latest Blogs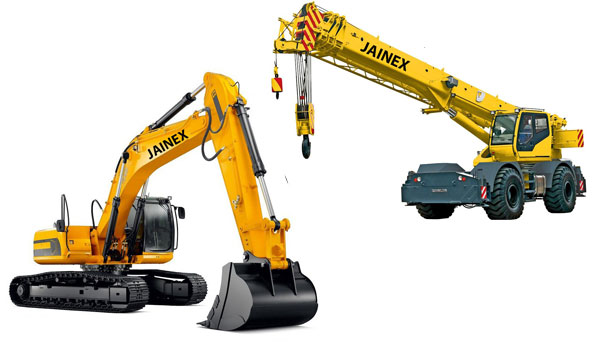 How to choose the right crane based on your project
?
If we closely look at the construction projects, all of them require the lifting, hauling or transportation of heavy goods. This is the reason why cranes play a major role at construction ..